I can see from the response to my recent blog, "Moving Beyond Referrals," that this is a hot topic.
There's usually that moment where business owners realize that scale isn't going to happen if outreach is limited to 1:1 personal contact --the same realization CEO Chris came to, as highlighted in the blog. That's the moment when they begin to think about how marketing can scale reach.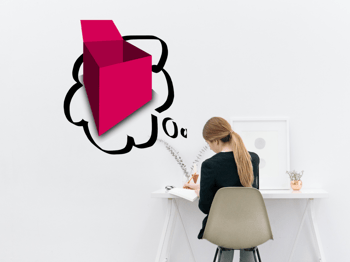 This is also the moment when confusion sets in. What to do first, where to spend money and talent resources, whether to hire in-house marketing team members or outsource service providers…
There's more… It's the time when CEOs begin to drown in the second-guessing: Forget about the monetary investment, do I really have the time to spend on marketing? I know I'm not an "expert" in this area, so how can I guide my team effectively?
And, the most hand-wringing question of all: What if marketing doesn't work?
Breathe… 5 Calming Tips for Business Leaders
I don't like to see the stress marketing creates. Actually, no. I hate to see the stress it creates. It seems unfair that something so essential is so fraught.
It's true: Marketing is risky. There are no guarantees, and anyone who tells you otherwise clearly does not know your business like YOU do. And yet, you can't entirely rely on instincts to navigate all the ins and outs marketing entails.
As you enter the initial phases of your marketing journey, here are a few calming tips so you can begin to think outside the 1:1 box:
1) Work with what you have before you hire. Chances are, you already have a site, some collateral material, and maybe a healthy email list. Start there. What can you use now; what focused initiative can you kick off while you're thinking through the rest? In other words, don't make a website revamp your first step. While important, it can wait.
2) Some instincts CAN be trusted. A smart CEO knows what she knows, and knows what she doesn't. Let that be a guide when it comes to hiring or onboarding marketing talent. Vet your marketing prospects with just as much thoroughness as you would your sales team or IT experts.
3) Be realistic about timelines. There's a fine line between ambition and realism. It takes gumption to start (and run) a business. But, it's also a process. No one becomes a household name overnight, just as no actor becomes a "breakout star" in that same timeframe. When you accept that some things simply take time, you can better prioritize.
4) Avoid the temptation to bring on another chef when you're short on sous chefs. And, conversely, don't expect your sous chefs to be capable of broad-based strategies that tie to non-marketing business issues. Know the difference between these two roles.
5) Don't go it alone. Many small businesses have a solo individual working by herself to plan and execute marketing. Marketing is--or should be--an inherently creative process anchored in facts, data, experience. It begs for collaboration. Even if someone already within your organization isn't in the "marketing department," their expertise may be highly valuable.
Ready to Jumpstart Your Marketing?
It's understandable why so many CEOs, founders, and other business leaders get cold feet when it comes to marketing. There's no sugar-coating the fact that it falls on your shoulders to determine where to invest in marketing (and how much to spend). That's exactly why building your own blueprint helps you identify what needs should be addressed first, before you outsource or hire in-house marketing talent.
"A smart CEO knows what she knows, and knows what she doesn't"
The above five building blocks are a great starting point. If you want to expand upon them--and avoid the "let's just throw stuff at the wall and see what sticks" approach (aka: Random Acts of Marketing)--join us in the Strategy Lab. You'll meet other business leaders who are going through the same process and follow in the footsteps of those who have found success thanks to the Lab's systematic methodology.


To get a better idea of what the Strategy Lab entails, check out this free training video. Or, set up a call with me here for more information.