Being known doesn't guarantee growth.
Meet Marjorie: She's a brilliant CEO, invested, has a solid reputation, and remarkable revenue in an innovative space.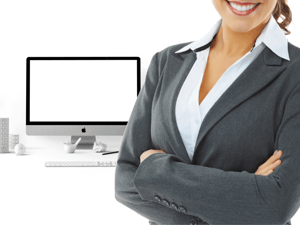 Despite her ambitions, her marketing wasn't generating the momentum she expected… Even though she actually was the household name in her sector.
Was she too ambitious?
Too aggressive?
Unrealistic?
We didn't think so. Marjorie didn't think so. She believed in the mastery of her products and service. She saw the uniqueness of her product line. She knew her reputation had influence.
So, what was the issue? Why wasn't she seeing growth?
Getting to the Root of the Problem
In The Strategy Lab, Marjorie heard from her peers. It was a bit of tough love, and tougher decision-making. She realized she had to go back to the beginning.
The data showed lots of website visits, but too many calls into customer service for information she thought was right at their fingertips. Turns out:
Her multi-page site was not well-optimized for search.
Her paid channels ignored the competitive angle.
The user experience on the product pages sent visitors back to content pages that distracted the buying exercise.
The Lab Says, "Back to Basics"
The Lab allows for a collective approach to solving problems. Business leaders from one sector often provide insight into another. This "meeting of the minds'' has proven to be highly effective.
Through the Lab process Marjorie saw the gaps in her marketing. She set out to develop:
"As tough as 2020 was, this approach worked."
A refined SEO strategy
A dynamic paid search program
A new product page template to secure the buying process
And, as tough as 2020 was, this approach worked--and worked really well. Marjorie's company realized:
32% revenue growth
New standards for promotional activity
Better ROAS in paid channels
What Version of Marjorie Are You?
Marjorie's story is not unique, and yet it is… for her company. In the Lab, there is no cookie-cutter solution. We make sure to approach each individual business with strategies that make the most sense for that business. And, the best part is, it only takes 10 weeks to formulate a marketing plan that will take you through the next 12-18 months.
If you're looking to refine and secure the best plan for this year's growth, the Strategy Lab can help get you there. Here's a brief (18-minute) training video that provides a look into the Lab's processes.