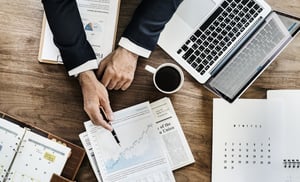 A recurring theme in my recent history of blog posts has been the Storybrand framework, which really focuses on tightening up your messaging and setting your audience, your customer, as the focal point. They become the hero of the story.
A common belief is that Storybrand is best utilized in smaller to mid-sized companies.
I'd argue that's a misconception.
It's Not About Size, It's About Concept
The Storybrand discussion this week is: How can the framework that's worked so well for smaller business work for larger organizations?
Frankly, I don't know what the fuss is about. If the framework is based on positioning the customer as hero, and simplifying messaging so the engagement path is clear, why would larger companies be exempt?
"That is the essence of Storybrand."
In some ways, account-based marketing (ABM) is the perfect environment for tackling the Storybrand framework. Here, messaging is crafted to demonstrate how an organization can specifically serve another by aligning solutions with their biggest challenges.
Applying Storybrand to B2B challenges, and to key accounts specifically, is almost easier than applying it to a broader brand message. Since you've studied your ABM opportunities in depth, you can support your upsell and cross-sell objectives with highly relevant messaging that fills specific customer needs.
Remember these assumptions:
The customer is the hero (not your products and services)
Once your overall brand value is identified, drilling down requires intimate understanding of the needs in a key account opportunity
You can't do everything, so focus on what you need most for your best opportunities
The way you communicate with your customers shouldn't have to shift based on the size of your company--if you're truly talking to them in a way that puts their needs and wants at the forefront. That is the essence of Storybrand.