COVID-19 threw a big monkey wrench into many B2B companies' business and marketing strategies. These brands had to carefully consider changes in how they communicated with, sold to, and served their customers.
Some took a savvy step back and transitioned from acquisition to retention. However, this is not always an easy move to make.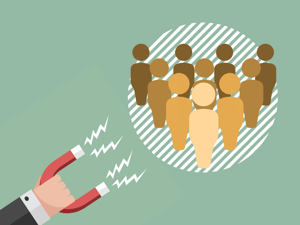 Hitting Pause on Acquisition
It's difficult to beat the rush (or the revenue) that comes with the "victory" of securing a new customer. Acquisition validates that your prospect-driven marketing efforts are working.
Unfortunately, in a time of minimalized budgets, many business leaders have been forced to choose between acquisition and retention. Spreading your marketing too thin--trying to do everything, all the time--is not only a no-win strategy, it's really not a strategy at all. It will be difficult to achieve the impact you want using this approach.
Sometimes, a more effective approach is to commit to one clear, specific goal and dedicate resources accordingly. In this scenario, focusing on retention can act as a "low risk" strategy.
Retention: Act Before You Have to React
Retention is rooted in proactive engagement with your current customer base. Andrei Petrik, CEO & Co-Founder of NetHunt CRM, reinforces the danger of misplaced focus in a recent TNW article: "There's no point in acquiring new customers slower than you're losing them."
He offers a few tips to optimize B2B customer retention. The majority he lists are customer-service oriented, but the following two strategies resonate from a marketing perspective.
1) Educate (and Re-educate) Your Customers. This doesn't mean you have to reinvent the wheel every time you issue an email newsletter or host a webinar. You have all the assets you need in your marketing arsenal. In fact, you probably had those key assets when you acquired the same customers you're trying to keep.
While some CEOs hesitate to push out "repetitive" messaging, repetition is actually an underutilized asset. And, consistent messaging makes it clear you stand for something. Find ways to repurpose or refresh materials to reflect what's happening now.
2) Communicate! Outreach is important, and it should be consistent... but it should also mean something. What value are you providing your customers when you take action to communicate with them?
"This is not always an easy move to make."
It's important to rely on data to assess when (and where) engagement starts to stall (e.g. dips in open/read rates, fewer visits to your site). Identify customers that might need some extra attention. Feedback is also a precious resource. Use it to firm up your customer relationships.
Two Steps Forward, Zero Steps Back
Focusing on retention now doesn't mean you'll operate within this strategy forever. The opposite is actually true. By committing to a set of outcomes (in this case, preserving your current customer base and its revenue), you're investing in one path that will let you fund the next.
If you're uncertain which path to take first, the Strategy Lab is a perfect place to start. Check out this short training video to learn more.