The whiplash experience of the small business during the past two years has left many company leaders holding hands over their eyes, blurting out "Uncle!" as inflation compounds the difficulties encountered during the pandemic.
This seems like just the right time to align business owners and marketers as we wrestle with how to manage marketing investment during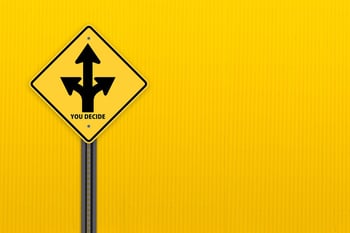 turbulent times.
The Spin-Cycle of Financial Health
During the pandemic, unemployment—and underemployment—reached a terrifying high. This, along with the "great resignation," dealt businesses a crushing talent shortage and even higher employment costs.
Now, small businesses are struggling to improve profitability as inflation trims margins even further. So, what's a business owner to do?
When it comes to marketing investment, two choices live in tension with one another:
Cut marketing costs
Invest in growth
The Battle of Perspectives Leaves Little Room for Compromise
As I've written about the looming possibility of a recession, and the strain on marketing programs, voices have emerged like two parallel lines, never to intersect:
Voice One: When times get tough, keep investing in brand and business growth, or you'll regret it later.
Your brand will suffer as potential customers only hear from bigger brands with bigger budgets.
Engagement levels will drop as you go silent in channels where you've worked hard to build audience connection; a terrible waste of past investment.
Stagnant revenue—even with improved profitability—will come back to haunt you when things ease back to "normal," and those who've stayed in the game will win.
Voice Two: Improved profitability is essential for long term sustainability, so it is critical to cut expenses so we can keep all options open for survival and future opportunity.
When a business is profitable it can hold onto employees in a tight market, therefore avoiding higher employee costs associated with newer hires.
Running a profitable business helps keep reserves sharp, so we can take advantage of incoming opportunities such as acquisitions, new tech, and market expansion as things free up.
In some cases, a strong P&L can make a company more attractive to prospective buyers.
Depending on a company's longer-term strategy, decision-makers will choose one Voice over the other. But, the truth is: There will be a significant loss of momentum if we choose one over the other.
What Can Small Business Learn from the Big Players?
In an article from early 2020 by Michaela Jefferson from Market Week she articulates how companies have to work harder to justify brand value as they raise prices to offset rising costs. This is where stronger brands with broad awareness win out because their value is widely known—or at least assumed as customers make a brand choice.
What can we learn from this if you're running a $10MM company?
How can we compromise between a CFO's profitability goals and a CMO's charge to generate growth?
As I wrestle with this on behalf of my clients, I turn back to those core concepts that have strengthened smaller brands as they compete across the larger landscape:
There will be significant loss of momentum if we choose one over the other?
Trying to do it all means you will likely do nothing well; focus on audiences, channels, and people power where it will matter most over the next 12-18 months.
Refining, reinforcing, and repurposing your owned "media"—the marketing assets you already have in-house—is the most efficient way to prepare for uncertainty.
Avoid the temptation to layer on new technologies and channels before you've optimized what's already in place; otherwise, the risk of wasting resources will only trim those margins further.
The sequence in which you invest in up-leveling marketing matters. Knowing what to do first, and what can wait, helps determine where marketing investment should be maintained, and what can be turned back to protect the P&L.
Real Life Examples
1) Invest in an audience with which you've had documented success.
An accounting firm was moving into an adjacent, growing sector where they'd had remarkable success. To do this, they renamed their business, created a new brand identity, and developed a new website. We helped them achieve all this newness, and it was time to begin communicating with prospective customers.
They had two promising audience profiles:
Audience 1: Smaller newcomers to this sector with high upside and low familiarity with this service. As such, they needed tons of guidance, expertise, and turnkey systems to level-up a complex function that was overwhelming the in-house team.
Audience 2

: Larger organizations who'd outsourced this service to competitors but who were suffering from neglect by larger, more bureaucratic (and expensive) providers.
The pain points were distinctively different for each, and each had particular leverage in delivering promising revenue to the new entity.
Here's a snapshot of our analysis:

The decision was determined by our client's more immediate needs:
Was it new revenue?
Or reputation expansion?
What messaging approach could best be leveraged toward one audience but still have an impact on the second?
These were brave, future-focused souls. They held their breath and decided to focus on the smaller audience among whom they could leverage their long-term brand differentiation. After gaining a reputation as a nimble, customized solution for newcomers to the sector, they began to hear from larger prospects who'd learned of their success on behalf of smaller firms and wanted to access some of this value for themselves.
Takeaway: When you're watching your marketing spend under uncertain market conditions, don't dilute your messaging. By focusing on a market share push toward a target you know you can serve best, you'll see success sooner, learn more about what worked (and what didn't), and will be better positioned to adapt this investment to a secondary audience with more confidence—and likely a bigger marketing budget.
2) Pick the most efficient point on the buyer journey, and focus there.
A 15-year-old marketing services company held tight to ambitious growth goals coming out of the pandemic. They had new, proprietary tech that was exciting and differentiating, and they were eager to deliver the news to the broad swath of prospects among whom they had little awareness.
There was a problem with this approach. Their lead gen "engine" was weak coming out of a weakened economy. The sales team was cold-outbounding to hunt for qualified leads just to meet growth goals. And resources for incremental marketing spend were limited.
I'm not going to over-promise here by telling you it will be easy.
In this case, broad-based awareness building wasn't going to generate enough mid-funnel leads to fill the sales pipeline. With the bulk of the marketing investment deployed against awareness, there wasn't enough fuel in the marketing tank to build a pipeline for the sales team and generate awareness of their new tech.
The solution was to hold on to awareness-generating tactics like PR and paid social and turn back toward a lead-nurturing strategy to attend to past leads who weren't ready to buy, or who'd selected competitors. By nurturing existing leads, this company was able to reconnect with prospects who've made other choices—or no choices—and deliver new, differentiating messaging around their tech to an existing database of prospects.
The results were strong: They regained traction, increased revenue, and then deployed this success into new awareness-generating channels to expand reach.
Takeaway: Everyone wants awareness. But awareness is the most expensive and time-consuming part of the purchase path, so beware of lofty, costly awareness-building programs until the low-hanging fruit has been adequately nurtured.
Don't Force the Choice: Growth and Profitability Matter Today
I'm not going to over-promise here by telling you it will be easy.
But I do know, after working with clients in the enterprise and SMB space for years, that tying your marketing investment to your business growth strategy, and making a few tough choices, is the path to profitable growth.
I use a simple formula to build a marketing strategy and plan that helps ease decision-making and, therefore, resource investment in marketing:
Frame what success looks like for your business for the next 12-18 months.
Focus on a defined set of priorities and dedicate investment to driving results against a select few that map to your revenue goals.
Formulate

a plan based on the channels, messaging, and spending that support those priorities - and nothing else.
Don't be afraid. You can do it! A little discipline will go a long way when market conditions seem unpredictable.