"The best thing you can do is to be exceptionally good at something."
That was Warren Buffet's recent statement about our current state of inflation. But, for many small and mid-market business leaders, it takes a whole lot more than "one thing" to ensure their goals are met.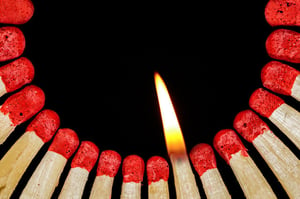 How can you make sure you're putting effort and resources into the activities that will produce the best results?
When prioritizing marketing activities, we apply a few rules to marketing best practices.
Consistency
If you can commit to something consistently, that is the power of marketing. It has exponential value. So, if you need to be in more than one place, doing more than one thing, can you sustain it consistently?
Here are some guiding questions to consider:
Do you have the expertise to ensure it's done with excellence? If you or your team has limited experience in email marketing, paid search, or social media scheduling and cadence, you may end up spinning your wheels.
Acknowledge the danger in the DIY approach. Often, company owners truly believe that only they can create their content, only they can write their LinkedIn posts, only they can interview their customers for case studies. The shortcoming? You have a day job. If you have to do it, there's a risk it won't get done. After all, you're running a business!
Define consistency from the viewpoint of the channel, not your team's bandwidth. I've had clients tell me posting a blog on their website once per month is enough. Enough for whom? For the internal bandwidth of the team? Yes. Enough for search engines? Probably not. Data shows that consistency and volume often go hand in hand.
Do you have the financial bandwidth to support consistency across multiple channels? If not, do what Warren says: Be excellent, consistent, and reliable in a single channel before implementing a lukewarm effort across many.
Trust the Data, If You Have It
I'm a big believer in the intersection of data and intuition. In my world of evaluating existing marketing programs while looking for the gaps, there's a lot of wrestling between data and experience; they're not always aligned.
When looking to focus and narrow priorities so that you have the capacity to execute with excellence, however, I let data drive the train.
The shortcoming? You have a day job.
I've had CEOs ask me pointed questions like, "How many leads will I get from this effort?" Or, "what's the ROI on that channel?" As a hired truth teller, I have to say, "How would I know?"


In other words, what happens when you don't have the data?
Here's where strategy saves the day.
If you've declared a specific role for marketing in achieving your growth goals.
If you've selected a specific strategy best suited to that role (see this blog that explains how a single strategy can have many tactical approaches).
If you've determined that a specific tactic (email marketing, paid search, trade shows, etc.) is most effective and efficient for your needs.
Then, you can feel confident investing in a marketing program for which you have no data to support the decision.
But here's a warning: if you have implemented some programs, and the data is dreary, don't fret. And don't throw the proverbial baby out with the bathwater. Dig into the data to see where the gaps occurred.
It may be that your marketing worked to generate a lead, for example, but your sales process was a mess. Or conversely, the leads generated were not qualified and, as such, a waste of time for your sales team. That's when you return to the strategy to see where the falloff occurred. It may have been:
Confusing messaging
Insufficient spending support
Inadequate execution in delivering this marketing to the right audience
Of course, it may have been the wrong channel altogether. A good strategy that's aligned with your growth goals will help you make that determination.
Beware the New and Shiny—and Keep Your Eye on the KPI
Who among us is not seduced by the new and shiny? It's exciting to implement something with great promise for your business. But friends, there are no silver bullets, free lunches, or magic wands.
There's a real emotional component—a legit sense of urgency—in turning to new tech, a new hire, an incremental investment in marketing magic.
Here are a few warnings about the new and shiny:
No tech, new hire, or alternative channel works in a vacuum. I've seen companies onboard new marketing automation without realizing that it will require a consultant to implement it correctly, staff training to keep the machine running, and surprise costs to get everything up and running.
Hiring new staff or an outside consultant does not

mean they'll have all the answers. At best, they'll ask all the right questions. That's the hard, cold truth. Here's a comment from one of my clients about this:
"We engaged with an [outsourced company] tasked with setting appointments and generating leads. And, The first thing they said was, who's your ideal customer? What's your what's your messaging? Who are you targeting? What we learned from that was, they're looking to us to know these things. And we didn't. We thought, all we have to do is buy a couple of tools and throw some emails together. And this is just gonna fly by itself. And it doesn't, it really requires a different level of thought, a different perspective that none of us had really thought about."
Ouch.
Even if you've invested in a business coach, EOS, or a marketing consultant, be sure they have the depth of in-market experience to guide a strategy based on your priorities. Not all your priorities; only those which map to the near term growth you need. This will help you make wise—not wasteful—investment decisions in something new to turbo-charge your business.
Contemplate Before You Cut
We're all starting to examine more closely the impact a recession might have on our bottom line. It can be tempting to make massive marketing cuts to free up the budget. Before you do that, consider how you might be able to prioritize your investment and efforts.
There are things you can do in advance to inventory marketing fuel before you cut:
There are no silver bullets, free lunches, or magic wands.
Make sure your website is optimized for search engines. Since your site is part of your "owned media," it needs to be fully operational so that, even with cuts, it can be found by Google and Co.

Make sure your page titles and meta descriptions on the back end hold core keywords your audience is searching for.
Add a piece of new content every week (a blog, an article, an interview, a case study). Don't worry about repeating yourself. Repetition is the most underutilized marketing tactic—but don't cut and paste. Adjust and revise against a single message.

Create an inventory of content that can be repurposed across multiple channels… on your blog, on your LinkedIn page, as an email newsletter, in outbound prospecting. It's remarkable how far a good piece of content can go. Create long form pieces now that can be chopped up and redeployed across your marketing mix.
If you'd like some more guidance on spending during an economic downturn, here are some resources:
See our entire YouTube channel, Marketing Air-Cover, here for additional guidance on marketing strategy for small business.
You can find more about the Marketing Strategy Lab for small businesses here.
Learn more about hiring a fractional CMO here.