It's always good to start out a brand new year with a clean desk, but it's even better to find something that validates the hard work—and lessons learned—of the previous one.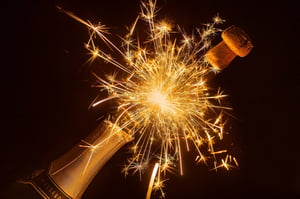 While sorting through a pile of papers to prepare my office for 2021, I came upon a real gem.
It was a notepad with scribbled musings inspired by one of my business coaches. He asked us to list the mutual mindsets and beliefs that identify a perfect collaboration.
Here's what I wrote back in June:
Collaboration is key. Two heads are better than one.
There is no silver bullet. Testing new things is fundamental to growth.
Marketing and sales must be aligned.
Surround yourself with smart people and empower them.
Nothing about those statements has changed in the last six months. If anything, these attributes became even more integral to growth as companies navigated the pandemic's interruptions.
Rediscovering the note was a happy accident; a perfect reminder as I lean into 2021's opportunities.
And Now… a Moment of Thankful Pause
It's expected this time of year brings reflection of things past and anticipation of what's to come. Throughout all of 2020's challenges (and there were plenty), I feel optimistic knowing this: Since we were able to survive the last 10-plus months by being ourselves, by helping others grow, and by growing our business, we can make it through just about anything.
"We can make it through just about anything."
So, to my clients and partners with whom I've shared this frenzied, exciting, and sometimes uncertain year… Thank you for sharing these powerful connectors. With them we've been able to beat the pandemic with new revenue, get over the potholes we encountered in the road, shared our disagreements with respect, and kept the mission front and center.
To my (growing) LinkedIn family, you've been a place to declare, disagree, share, laugh, and learn. So to you, too, though we're mostly strangers, I wish you the best of health and happiness as the year comes to a close.
And to all, there's nothing I wish more than the promise of a new day. See you in 2021!
P.S. If you're ready to get a jump start on optimizing your marketing strategy, here's how I can help:
Set up time to discuss your goals. We'll know quickly if a view from outside your organization can help.
Join the Marketing Strategy Lab to develop a strategy and a plan you can commit to.
Work with me as a fractional CMO to bring objective, strategic order to your marketing investments.