The decision to level up your marketing through outside help can be a complicated one.
Maybe you're reluctant to hear someone else's perspective on your business.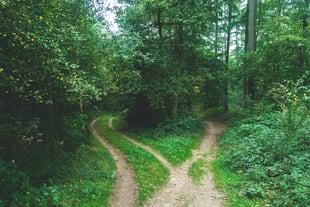 Maybe you love your in-house marketing team, but deep down you know they don't have enough experience to meet your most urgent needs.
Maybe you're afraid to allocate even more resources to marketing when what you've tried in the past isn't getting any traction.
But let's face it. If your current marketing tactics were delivering the results you need, we wouldn't even be having this conversation.
The challenge in hiring in-house marketing staff is connected to understanding what your business needs—what kind of marketing—is necessary to move toward the performance that will get you there.
Think about it: If your budget allows you to hire a digital native with an agile understanding of content and social channels, good for you! But, what if those are not actually the priority channels necessary for a short-term bump? Now you're asking a social expert to also know marketing automation and audience segmentation when that's not in their wheelhouse.

It's not their fault.
The Painful Truth
Here's what one CEO of a software company told me about this very thing.
She explored outside marketing resources. Then, she tried to onboard mid-level full-time skills. Then, she turned to software and subscription services to try and make a difference. Here's what happened:
There are some foundational elements to help make the right marketing decisions—as long as we ask the right questions.
Is there someone on my team filling the marketing seat?
"The first thing every marketing person asked was, 'Who's your ideal customer? What's your messaging? Who are we targeting? What channels have worked best for you in the past.' We hadn't figured any of that out.
And then we said, all we have to do is buy a couple of tools and throw some emails together. And this is just gonna kind of fly by itself. And it doesn't. It really requires a different level of thought, it's a different perspective than any of us had the time to really think about."
When You Have a Roadmap, You Avoid the Random
I hear this frustration all the time: "Marketing should be easy!"

But it's not.
There are a few obvious—and possibly painful—reasons marketing can be so fraught. Let's face it, you may consider it a cost center without guarantees. You may not get what you pay for. And, too often you have to answer to your CFO about why marketing is eating up your budget when it doesn't work.
I talk to many companies each year who wrestle with this—and end up resorting to a DIY approach just to get something out the door.
There are some foundational elements to help make the right marketing decisions—as long as we ask the right questions.
Which of the many audiences that we could market to, should we market to? What's the purchase cycle for your business? Do prospects already know you? Or are they at the outset of an exploratory that requires more education? We all have an array of prospects; choose the right one for your timeline and budget.


What's our tolerance for pushing out high-cost marketing programs when we don't have past performance metrics to guide us? How much risk can you afford? Sometimes, time is just what you need to tap into the right resources. So take the time to do it right, not fast. Under other conditions, you may determine that investing now serves your overall business goals and takes priority over profitability. This may be true if you're starting something new.

What's our timeline for success? Is the goal of marketing to get top-of-the-funnel traction quickly to fuel a sales team? Or is it to expand reach to set the stage for a new product offering next year? (You can see how those two goals would lead to very different marketing programs and budgets.)


Is there someone on my team filling the marketing seat? How to have past DIY marketing initiatives paid out? (If you've seen my webinar, "How to Avoid Random Acts of Marketing," you know where I stand on this one.)
What's a Roadmap Anyway?
You likely already have financial goals for your company. You may have identified the obstacles to getting there.
What should I spend on marketing?
Some clients of mine are working with an EOS implementer, an executive coach, a productivity solution, and of course, an accountant. Each of these guides may help determine the gaps in a business development scheme.

But still….

The questions are:

What should I spend on marketing?
What are the best marketing channels that will yield the best results? And, in what timeframe?
Who's wearing the marketing hat in your organization; are they specialists in a particular channel, or do they have a strategic view on growth, timelines for ROI, and skill sets necessary to execute with excellence?
Let's Change the Conversation
Marketing is an investment, just like tech or talent.

If you're not ready to invest in funding a full-on department that supports marketing, try starting from the beginning: isolating what you need to reach your next revenue hurdle. I won't lie… marketing doesn't happen overnight.

But, if you have a plan that maps marketing investment to revenue—in a focused and deliberate manner—the tone changes. You're no longer spending against waste and risk; you're investing in a plan that can be sequenced as budgets allow, measured against firm KPIs, and executed by the right talent at the right time.

Don't boil the ocean. It's just too big.

See our YouTube channel, Marketing Air-Cover, for additional guidance on marketing strategy for small businesses.